Rev. Helgi Sveinsson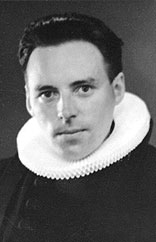 Rev. Helgi Sveinsson was born on July 25th 1908 at Hvítsstaðir in Mýrarsýsla. College degree in 1930, graduated as a teacher in 1934 and as a theologian in 1936. Teacher 1934-37. Priest at Háls in Fnjóskadalur 1936-40 and at Arnarbæli from 1940 until his death. Lived in Hveragerði from 1942. Teacher at Hveragerði middle school, Reykir agricultural college and Hlíðardalur school from 1943. County board member from 1946. Helgi was an idealist, firmly believing in freedom, equality and brotherhood. When friends gathered, he was the life of the party, and writing poetry came easy to him. He was renowned for writing excellent speeches and great poems but he was mostly known for his occasional verse, which became famous in Iceland.
Ástir
Ungar varir okkar mættust,
óskir beggja saman runnu.
Brosin þögul eiða unnu.
Eldarnir á himnum brunnu.
Heitt og viðkvæmt hrærast sá ég
hjarta þitt í leyndu tári.
Bernsku þinnar sólskinssumur
sváfu í þínu gullna hári.
Konungarnir heiðu, háu, –
heitir dagar lífs og máttar, –
komu í skýjum austuráttar
eftir drauma vökunáttar.
Svanir okkar urðu fleygir:
orðin, sem á vörum lágu. –
Jörðin sigldi um sumarnætur
svefnlaus yfir djúpin bláu.
The content of the poem Ástir (Loves) is roughly the following:
Our young lips and wishes came together.
We made a silent oath of smiles.
Fires burned in the heavens.
I saw your warm and sensitive heart
moving in a secret tear.
The sunny summers of your childhood
were sleeping in your golden hair.
The high and clear kings –
the warm days of life and strength –
came with the clouds from the east,
after the dreams of a sleepless night.
Our swans could finally fly:
The words lying on our lips.
And the Earth sailed through the summer nights,
sleepless over the blue deep.

Raddir um nótt 1944
Ljósið kemur að ofan 1952
Engilsvík 1952
Helgi Sveinsson – Presturinn og skáldið 1969
Poems and sermons in the following publications
Sálmabókin 1972
Fjallkonur í fimmtíu ár 1994
Borgfirzk ljóð
Nýjar hugvekjur
Eining
Gangleri
Hlín
Kirkjublað
Kirkjublaðið
Kirkjuritið
Lesbók Morgunblaðsins
Perlur
Skinfaxi
Stúdentablaðið
Víðförli