Kristmann Guðmundsson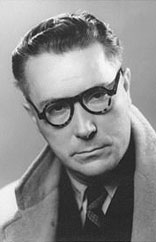 Kristmann Guðmundsson was born on October 23rd in 1901 at Þverfell in Lundarreykjadalur and grew up with his maternal grandparents. He left home early to earn his keep. Studied at Samvinnuskólinn college. Moved to Norway and studied at Voss, Lofthus and Aarnes.
Lived mostly in Oslo but travelled around Europe. Moved back to Iceland in 1939. He was a prolific writer, admired in Norway and many other countries. His works were translated into over 40 languages, including Chinese. Kristmann was best known for his novels, but he also wrote short stories and poems and did translation work. His novel, The Morning of Life, was filmed by German filmmakers in 1955.
A collection of his works has been issued in Iceland.
Síðsumar undir Hamrinum
Sæt er angan úr sölnandi gróðurhögum;
sefur nú bylgjan frammi við lága strönd;
öll náttúran glitrar, eins og á æskudögum,
frá efstu brúnum að hafdjúpsins sjónarrönd.
Frá þorpinu heyrist hlátur og söngur barna,
hljómur hins sigrandi lífs í gleði og fró;
líðandi stund varpar ljóma á veginn farna
og langt inn í ókomna tíð geislar öryggi og ró.
Hér skynjar mín sál að vígöld og vargöld nauða
vera mun él eitt, er stjórna hin æðstu rögn;
öskur og trylling heimsins hamingjusnauða
und Hamrinum mínum falla í gleymsku og þögn.
En ilmandi þögnin birtir mér óminn bjarta
af brimi lífsins, er flæða skal endalaust,
og fögnuður vorsins fyllir mitt unga hjarta,
þótt fölni laufið og bráðum sé komið haust.
The content of the poem Síðsumar undir hamrinum
(Late summer under the cliff) is roughly the following:
From the village you can hear the laughter and singing of children:
the sound of the conquering life in joy and mirth.
The passing of time sheds light on days past
and illuminates the future with calm and tranquility.
Here my soul senses that all the wars and battles
are only hailstorms commanded by the highest Gods.
The screams and cries of a world bereaved of happiness
are turned to silence and forgotten under my cliff.
But the fragrant silence shows me the bright sound
of the surf of life, that forever shall flow,
and the joy of spring fills my young heart,
though the leaves turn grey and the autumn is on its way.

Original Norwegian editions
Islandsk kjærlighet 1926
Brudekjolen 1927
Armann og Vildis 1928
Livets morgen 1929
Sigmar 1930
Den blaa kyst 1931
Det hellige fjell 1932
Den förste vaar 1933
Hvite netter 1934
Jordens barn 1935
Lampen 1936
Gudinden og oksen 1938
Published works in Icelandic
Rökkursöngvar 1922
Nátttröllið glottir 1943
Félagi kona 1947
Kvöld í Reykjavík 1948
Leikmannsþankar 1949
Þokan rauða I 1950
Þokan rauða II 1952
Höll Þyrnirósu 1952
Kristmannskver, ljóð 1955
Heimsbókmenntasaga I 1955
Heimsbókmenntasaga II 1956
Ferðin til stjarnanna 1959
Ævintýri í himingeimnum 1959
Ísold hin svarta 1959
Dægrin blá 1960
Loginn hvíti 1961
Völuskrín 1961
Ísold hin gullna 1962
Garðaprýði 1962
Torgið 1965
Skammdegi 1966
Tilhugalíf 1968
Blábrá 1968
Smiðurinn mikli 1969
Sumar í Selavík 1971
Brosið 1972
Leikur að ljóðum 1974
Stjörnuskipið 1975
Haustljóð 1981
Thornton Wilder – Örlagabrúin 1947
Karl Bjarnhof – Fölna stjörnur 1960